Purchasing a car, whether it's brand new or pre-owned, is an exciting time in one's life. You're going to be the owner of a new car to take you on the roads of Brunswick, Dock Junction, and Saint Simons Island. What if you enjoy upgrading vehicles every few years and having the latest technology? Well, leasing could be an option for you.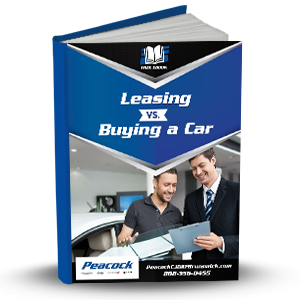 At Peacock Chrysler Jeep Dodge Ram Brunswick, we invite you to check out the Leasing vs. Buying a Car eBook. You'll find there are benefits to both leasing and buying, and it can often depend on current finances, lifestyle, driving habits, and preferences.
We've put together this guide explaining the similarities and differences of leasing and buying in great detail. This guide will discuss:
Understanding loans and leases
Up-front costs
Benefits of owning a car
Benefits of leasing a car
Depreciation
And more!
If you're not sure whether leasing or buying is the right choice for you, we invite you to download this free eBook. We look forward to seeing you at our dealership soon!
When you download this FREE eBook, you'll get exclusive money-saving coupons towards your next vehicle purchase at Peacock Chrysler Jeep Dodge Ram Brunswick! Get access to this eBook by quickly filling out your information and clicking "Send"!